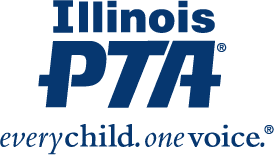 Dear Parents, Friends, and Community Members,
Along with the school board, Superintendent, and district staff, the local PTAs play an important role in our school community.  Knowing the PTA Mission is critical in helping others to better understand the work and commitment our District's PTA leaders and members have so graciously undertaken for so many years.
PTA is:  a powerful voice for children, a relevant resource for families and communities, and a strong advocate for the education and well-being of every child.
PTA operates with a dedicated 99% volunteer force that has believed for over 100 years that parent involvement is the foundation upon which your children's futures are shaped.
I encourage any and all to join their local PTA; and hope you can dedicate 1 hour (or more) to contribute to your PTA's success this year.
Jeann Morrison
District 8-Illinois PTA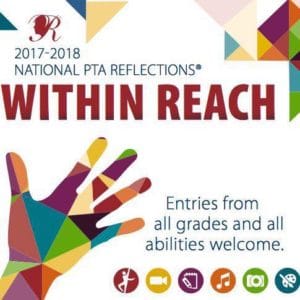 The arts—and National PTA® Reflections—support student success and serve as a valuable tool for engaging families and building strong partnerships in the school community. Founded in 1969, Reflections engages nearly 300,000 students and their families in arts education activities each year by encouraging students to explore the arts for fun and recognition.
Pre-Kindergarten through grade 12 students are encouraged to submit original works of art in one or more of the following categories:
• Dance Choreography • Film Production • Literature • Musical Composition • Photography • Visual Arts
Students with disabilities may receive special accommodations by entering the special artist division.
The National PTA Reflections program is PTA's cornerstone arts program. The theme for the 2017-2018 school year is "Within Reach…" Each year, students in Pre-K through grade 12 are recognized for bringing the annual theme to life through dance choreography, film production, literature, music composition, photography and visual arts. Students submit their artwork to local PTAs for initial judging. In Illinois, local winning entries then advance to the next level of the program. This could be a council, district or region PTA. District 8 PTA has partnered with the Quincy Art Center to revitalize the Reflections program in the local PTAs.