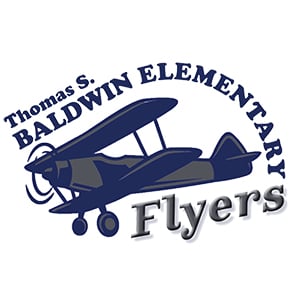 Welcome to Thomas S. Baldwin Elementary
Arrival: 8:25 a.m. -Doors Open                School Starts at 8:45 a.m.
Dismissal: 3:15pm
**Please call the office by 9:00am each day that your student is absent and by 2:00pm with any end of day changes.**
Morning Drop Off & Afternoon Pick Up Map 
Online Skyward Registration must be completed prior to the first day of school each year.
To keep up with Thomas S. Baldwin please like our Facebook page Thomas S. Baldwin K-5!!
Please take a look at our Student Handbook.  If you have any questions please let us know. Student Handbook 23-24
T-Shirt Tuesdays: Show your Flyer pride by wearing a Thomas S. Baldwin t-shirt!
Blue Devil Fridays: Join in with the entire Quincy Public School district & wear your Blue Devil apparel or by wearing blue & white! [Blue Devil Spirit Shop]
Principal: Jim Sohn
SAM (Student Assistant Manager):  Tammy Stegeman
SE SAM (Social Emotional Student Assistant Manager): Laura Williams