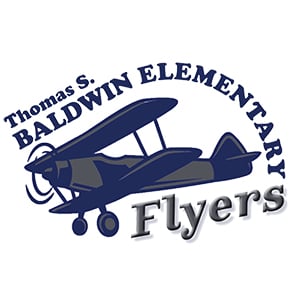 Aviator Thomas S. Baldwin was luckiest man in Quincy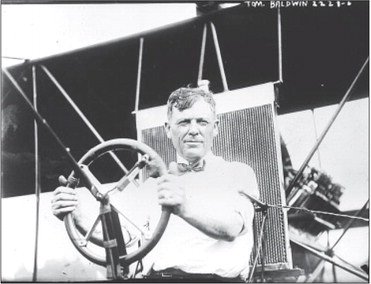 "It's Not Luck, It's Results!" This was the motto of Thomas S. Baldwin, showman, aviator, inventor of the first collapsible parachute and various airships, and, ironically, one of the luckiest men in the history of Quincy.
His success inspired the naming of Quincy's airport – Baldwin Field — and Baldwin Intermediate School. He also earned the honor of burial in Arlington National Cemetery. Who was this extraordinary man?
While accounts of Baldwin's birth and youth vary greatly, he was probably born in Decatur, Ill., on June 30, 1857, the son of Dr. and Mrs. Samuel and Jane Baldwin. His father was allegedly murdered by raiders in Northeast Missouri during the Civil War. The young family moved to Quincy, where his mother died shortly thereafter. Tom and his older brother Samuel Baldwin, Jr. had to raise themselves. Tom worked as a newspaper carrier, lamplighter and book canvasser to make a living.
During this time, the natural showman in Baldwin began to appear. He demonstrated remarkable gymnastic ability and developed a series of tumbles and other acrobatic stunts for his own enjoyment. He honed these skills in sawdust piles of the lumber mills in the bottoms north of Quincy. He then landed a job as an acrobat in a traveling circus.
At the time, balloon ascensions were popular.Baldwin decided to enhance the act by combining his acrobatics with the balloon ascensions. As the balloon rose, Baldwin would perform somersaults, flips and other stunts on a trapeze bar hanging below the balloon. The crowds loved the act; Baldwin loved the crowds.
After a few years, Baldwin took his act to California. His first break came around 1881, when he successfully developed a high wire act at San Francisco's Seal Rock Amusement Park. He walked across a five-inch cable, 700 feet above the pounding surf of the Pacific Ocean. His act mesmerized onlookers and garnered Baldwin early fame.
Always on the lookout for his next act, Baldwin explored combining parachute jumps with the balloon ascensions. While parachutes had existed for many years in one form or another, the technology was still in its infancy. Jumps were extremely dangerous.
From 1885 through 1886, Baldwin experimented with models that would permit a safe descent from an ascending balloon tethered to the ground, a captive balloon. His parachute was made of flexible fabric with a hole in the middle that helped avoid the severe swaying that characterized earlier attempts by others. After successfully dropping a dog strapped to his parachute, Baldwin tested the parachute himself, and it worked.
Baldwin's public debut of the parachute jump occurred on Jan. 30, 1887. He had struck a deal with a street car operator who served Seal Rock Park to pay Baldwin $1 for each foot of his parachute jump. Baldwin jumped from 1,000 feet to the amazement of 30,000 spectators and suddenly enjoyed a new level of financial success and fame.
On July 4, 1887, in Quincy's Singleton Park at 30th and Maine Streets (later renamed Baldwin Park), Baldwin performed his second parachute jump, this time from a balloon he manufactured in Quincy named the "City of Quincy."
Baldwin had intended to jump from a captive balloon, but complications arose when the winds became severe and the tethers started to whip around dangerously. Baldwin took the risk of releasing the tethers, and the balloon floated freely east. At about 33rd Street, he jumped from a distance of more than 4,000 feet. The descent lasted three minutes and 20 seconds. He landed safely but with such velocity that he slid and rolled for 35 feet before coming to rest. His balloon continued to float freely and was ultimately found near Perry.
Requests for performances poured in from all over the country. For the balance of 1887 and into 1888, Baldwin took his show on the road throughout the Midwest and East. In the midst of this success on Dec. 7, 1887, in Quincy, he married Caroline "Carrie" Pool, the daughter of a prominent owner and developer of real estate. Then, at the encouragement of "Buffalo Bill" Cody, Baldwin took his show to England and continental Europe in 1888. During this time, Baldwin started to use the self-styled title of Captain and it stuck.
Again, huge crowds were enthralled with his jumps. Honors, awards and gifts, including a diamond ring from the Prince of Wales, were showered upon Baldwin. In 1889 he took his show to the western United States and then, in 1890, to Hawaii and the Far East. In many of these places, no one had seen anyone fly an aircraft, let alone jump out of one and land safely.
Baldwin then turned his attention back to Quincy. In September 1891, he purchased and redeveloped the former Singleton Park. His "Baldwin Park" had bowling alleys, an amphitheater, a hotel, a race track shaped in a figure eight, and other recreational facilities on 32 acres. His and Carrie's only child, Thomas A. Baldwin, was born in December 1891. Baldwin and Sam started the Baldwin Brothers Company to manufacture balloons and other aeronautical equipment. With the exception of occasional performances, Baldwin was now a father and businessman and more settled than at any time in his life.
By 1897, Baldwin yearned for a new challenge. He returned to California while Carrie stayed in Quincy to operate Baldwin Park and raise young Tom. Baldwin wanted to achieve controllable flight, so his balloons would not float helplessly with the winds. He began to develop "dirigibles," balloons with motors and rudders that would direct flight; however, he could not find a satisfactory motor.
Fortunately, in 1903 Baldwin befriended GlennH. Curtiss, founder of what became the aviation manufacturing giant Curtiss Aeroplane and Motor Company, known today as the Curtiss-Wright Corporation. At the time, Curtiss was building motorcycles. Baldwin realized that the motorcycle engine was perfect for his dirigible, and Curtiss was introduced to his future — aviation.
On Aug. 3, 1904, in Los Angeles, Baldwin made aviation history in his dirigible "California Arrow" by ascending in a lighter-than- air craft and sailing in a controlled flight along a predetermined course back to the point of beginning. The Wright Brothers had performed a similar feat (though not back to the point of origin) with their heavier-than-air airplane in December 1903.
From 1904 through 1907, Baldwin constructed and flew several dirigibles throughout the United States at exhibitions such as St. Louis' Louisiana Purchase Exposition. From 1908 through 1910, Baldwin promoted military and civilian uses of dirigibles, including dirigible passenger lines.
Baldwin then redirected his energy to the newly popular airplanes. His friendship with Curtiss, now a manufacturer of airplanes, helped. In 1910, Baldwin built the biplane "Red Devil." (The plane was so named after a young girl heard Baldwin swearing up a storm at the plane and ran away yelling that the "red devil" was after her.) He spent the next five years flying his airplanes in exhibitions in cities and countries where he had performed his earlier acts.
With the United States' entry into World War I, Baldwin volunteered for duty and was commissioned as a captain in the Signal Officers' Reserve Corps. He trained or directed the training of many of the Army Air Corps' aviators throughout the war. He was later promoted to the rank of major and served in the Army Air Corps until his discharge in October 1919. He worked until his death in 1923 as a district manager of balloon inspection and production for Goodyear Tire and Rubber Company.
Baldwin's life overflowed with "results." He was a successful performer with and inventor of balloons, parachutes, dirigibles and airplanes. His inventiveness appears to have been driven by the unceasing desire to conquer new challenges and enthrall crowds.
He risked life and limb on countless occasions. Baldwin patented few of his inventions. Instead, he shared them with the rest of the aviation industry. His focus was the show. As a result, he helped usher in aviation as not simply entertainment, but a major mode of transportation and industry.
He was, in many ways, one of the luckiest men in Quincy's history.