Curriculum, Instruction & Assessment menu
Illinois 5Essentials Survey
The 2022-2023 Illinois 5Essentials Survey will open January 24, 2023 through March 31, 2023 for parents.
Click here to take the 2022-2023 5Essentials Parent Survey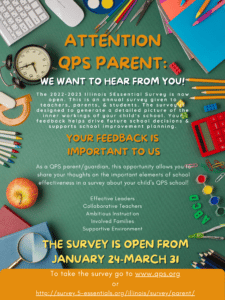 Prior research in more than 400 schools has shown that schools that were strong on at least three of these "5 Essential" indicators were 10 times more likely to improve student learning gains in math and reading than those that were weak on three or more essentials. All teachers and 4th- 12th grade students will be responding to the survey.
Your participation in the parent portion of the survey is important and will help guide improvement!
◦ To have the information we need to improve our schools, we want to hear your feedback!
◦  In order for us to receive a report about our parent/guardian feedback, at least 20% of parents/guardians must complete the survey.
◦  It is completely anonymous—no information will ever be traced back to you or your child(ren).