K-5 General Music Teachers
MS. MAKAYLA BRIGGS – Denman Elementary General Music
Makayla is a QHS Alum! Graduating from Quincy University with her Bachelors in Music Education in 2021 she found herself returning to her Alma Mater, this time as a teacher. She is part of our K-5 Elementary General Music Team teaching at Denman Elementary. Along with teaching general music she also is the Director of Denman Elementary Choir, she is the QHS Colorguard Coach, and is the worship leader at her church!
In her free time she loves spending time with her family and friends. And currently loves to play a good match of pickleball! Her favorite thing about teaching is being around children helps her inner child's imagination come back out and allows us to see through a child's eyes again!
---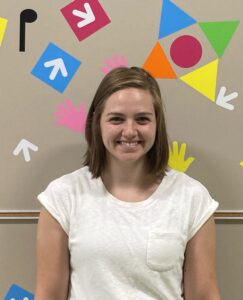 MRS. SAMANTHA BURGE – Lincoln Douglas Elementary General Music
My name is Mrs. Samantha Burge and I teach General Music at Lincoln-Douglas Elementary, this is my 8th year teaching music.
I received my bachelor's degree in Music Education from Quincy University in Quincy, IL. I am working on my Master of Music Education – Kodaly Emphasis from Lakeland University in Sheboygan, WI.
I play flute and piccolo with amazing groups in the Quincy area. I play with the Quincy Park Band, which plays during the summer at Madison Park, and Quincy Concert Band throughout the school year.
In my free time I like to hang out with my family, husband Mack and daughter Zullianna (1), and play with my dogs, Kuzco and Apollo. I like to relax at home by watching my favorite tv series of reality competitions: Master Chef, Masked Singer, or Next Level Chef.
---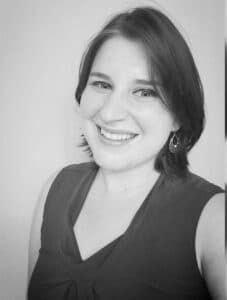 MRS. SARA DEVINE – Baldwin Elementary School General Music
Sara Devine graduated summa cum laude with her Bachelors of Music degree from Western Illinois University and is the general music teacher at Baldwin Elementary. In addition to general music she is the After School Choir director for Baldwin as well as the 7th grade jazz band director at QJHS. Ms. Devine can often be found performing in the Quincy Symphony Orchestra and at QCT!
---
MRS. MARCI KELLER – Rooney Elementary General Music
Welcome to the start of a wonderful new school year! I am Marci Keller, and I am thrilled to begin this musical journey with your little cutie! This year, I will be Rooney's Kindergarten, 1st, 2nd, & 3rd Grade Music Teacher, the After-School Choir Director, and the 4th and 5th Grade Music Co-Teacher with Mrs. Toni Radel.  This will be my 31st year of teaching, but my 1st in music! I have also taught kindergarten,1st, 2nd, 3rd, and a 2nd & 3rd grade accelerated combination. I received my bachelor's degree at Southern Illinois University at Carbondale and my master's degree at Quincy University. Additionally, I have an extensive background in music performance, theatre, and children's choir direction. I also enjoy performing in musicals at Quincy Community Theatre with my husband and son.
My husband, Jason, and I have two sons, Thomas and Joseph. Thomas is a sophomore at Quincy Senior High School, and Joseph is an 8th grader at Quincy Junior High School.
---
MRS. TONI RADEL – Traveling General Music
QHS graduate of 2007. Married in 2022. Husband owns his own hobby and gaming store. (Not slots!) Avid player of video games and tabletop games. Loves shiny math rocks! (Dice for said tabletop games.) No children but has seven fur babies at home.
---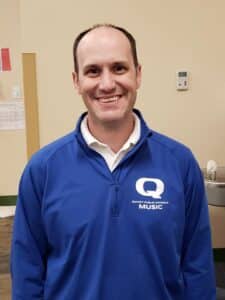 MR. MARK SNIDER – ILES ELEMENTARY GENERAL MUSIC
Learn more about Mr. Mark Snider, General Music Education Specialist in his own words…I hold a Bachelor of Music Education, Central Methodist University and a Master of Music, Choral Emphasis, Emporia State University. I enjoy traveling, spending time with family and friends, home improvement, fishing, and camping. Three musical achievements that I've had in career thus far are:-Working as a Counselor and Teacher at Blue Lake Fine Arts Camp (Blue Lake, Michigan)-Traveling and singing in Germany, Austria, Italy and Switzerland during my Masters work.-Teaching through a variety of musical opportunities: K-12 General Music, Elementary Choir 6-12 Guitar, 6-12 Choir I teach general music at [Colonel George J.] Iles Elementary.