JEFF DUFFY, QHS BAND DIRECTOR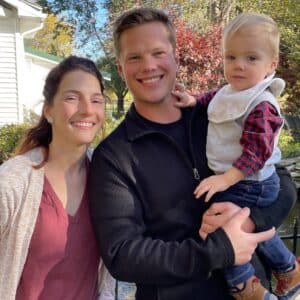 Mr. Duffy is a 2010 graduate of Quincy Senior High School. He is a graduate of Truman State University where he earned a Bachelor of Music Education degree and Master of Arts in K – 12 Instrumental Music degree. He has vast experience as a musician and has performed with the Bluecoats Drum & Bugle Corps and taught for the world class Colts Drum and Bugle Corps. He performs with many community ensembles including Quincy Concert Band and Big River Swing Machine. Jeff has served as Assistant Band Director and Marching Band Director with Hannibal High School for five years. Under his direction the band has grown in numbers and ability, receiving high honors and awards including the esteemed Grand Champion award at band competitions. His band has consistently received superior ratings at Missouri Middle School and High School contests.
Mr. Duffy resides in Quincy with his wife Christina, also an instrumental music teacher for QPS and their son Elliot. We welcome Mr. Duffy back to the Blue Devil family.
MATT BUHR, QHS ASSOCIATE BAND DIRECTOR/QHS SYMPHONIC BAND DIRECTOR/QJHS 8th GRADE BAND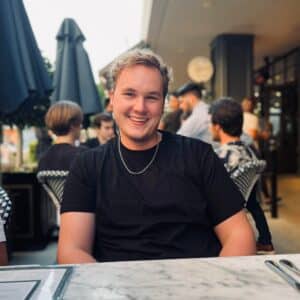 Please welcome new staff member Matt Buhr.  Matt is a proud graduate of the University of Iowa, holding degrees in both Trumpet Performance and Music Education. At the University of Iowa Matt was honored to serve as the trumpet section leader for the 250 member Hawkeye Marching Band as well as a choreography captain for the U of Iowa Dance Club, and was a member of the Intersection a cappella group. He has had the opportunity to work with several high school band programs in Illinois and Iowa. Matt has served as a showchoir choreographer and clinician at both the junior high and high school level for schools across the Midwest. This year, Matt will be conducting the 8th and 9th grade concert bands, assisting with the QHS marching, pep and jazz bands, and instructing fundamentals of music theory. In his free time Matt enjoys attending Hawkeye football games and riding motorcycles.
EDWARD SAILER – QHS ASSOCIATE BAND DIRECTOR/QJHS 7th GRADE BAND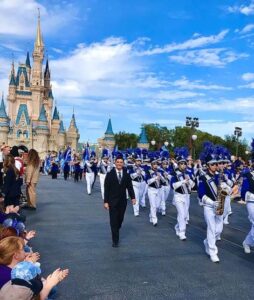 Mr. Sailer is in his 4th year teaching for the Quincy Public School District. He grew up in Aurora, Illinois and graduated summa cum laude from VanderCook College of Music in Chicago, where he was a Victor Zajec Memorial Award Recipient. He is currently completing his Master of Music in Music Education degree from Western Illinois University. Mr. Sailer is an active private lesson teacher and has performed with the Quincy Symphony Orchestra, Quincy Concert Band, and Quincy University. He is in his fourth year working with the Blue Devil Marching Band and junior high bands, and he has experience teaching elementary music and collegiate band (John Wood Community College). Mr. Sailer is also a member of the Nation Association for Music Education, Nation Band Association, Illinois Music Association, and Phi Mu Alpha Sinfonia.
BETHANY OTTE – QHS ORCHESTRA DIRECTOR/QJHS ASSOCIATE ORCHESTRA DIRECTOR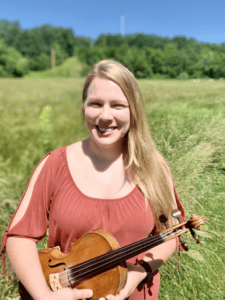 Mrs. Otte is QHS director of Concert Orchestra and Symphonic Strings. She also assists the 6th, 7th and 8th grade orchestras at Quincy Junior High School.
Mrs. Otte is a second-generation music educator. She grew up in a home that valued music as part of life, and at six years old, Bethany began to play the violin continuing to play through college. She earned her B.S. in Music Education with an emphasis in String Pedagogy from Maranatha Baptist University in Watertown, WI. Bethany spent several years as a private teacher before transitioning to teaching orchestra full time. She loves the personal interaction she gets with each of her students and taking advantage of the opportunities that are available for her students to excel as musicians and citizens. Outside of the classroom, Bethany is involved in her church, and also loves spending time and exploring new places with her husband and son Michael.
CHAD ENSINGER – QHS ASSOCIATE ORCHESTRA DIRECTOR/QJHS 6-8 ORCHESTRAS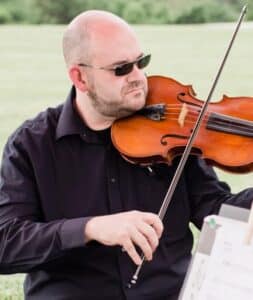 Mr. Ensinger is the QHS Associate Orchestra Director and the QJHS 6-8 Orchestra Director.  Chad attended Wheaton College, in the Western Suburbs of Chicago, where he earned a Bachelor's Degree in Music and went back to school closer to home at Western Illinois University where he simultaneously acquired his teacher's certification in music education, earned a Master's of Arts degree in music education, and started a family.
As a string teacher, he has learned to play all string instruments (Violin, Viola, Cello, and Bass) but his main instrument is Viola.  Chad has been playing the Viola for about 30 years now and has had the pleasure of performing in a variety of different Symphony Orchestras, String Quartets, and orchestras for Operas, Operettas, Musicals and Oratorios.  Mr. Ensinger enjoys spending time with his family of 6. His wife, Stephanie, serves as para-educator at Rooney Elementary.  We enjoy going out of town on little adventures such as an occasional trip to Branson, camping in the Smoky Mountains and hiking in the woods
PAUL SHELOR – DIRECTOR OF QHS CONCERT CHOIR, QHS CONCERT CHORALE, QHS FRESHMEN CHORALE & QHS VARISTY CHORALE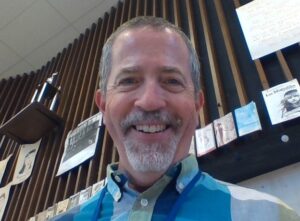 Paul Shelor graduated from the University of Missouri Kansas City Conservatory of Music with a Masters in Choral Conducting.  He has been teaching choir in Quincy since 1992.  In addition, he serves as the chorus master for the Muddy River Opera Company and the Quincy Area Youth Chorus.  With his lovely wife Mary of 32 years they have two grown children, Christopher and Bryson.  In his free time, Paul enjoys biking, camping, hiking and playing table tennis.
ALLISON STONECYPHER – QJHS 6th, 7th and 8th GRADE CHOIR/6th Grade GENERAL MUSIC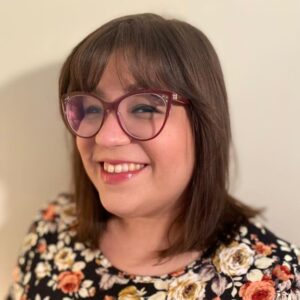 Alison Stonecypher to the Quincy Junior High School Family. This is Mrs. Stonecypher's fifth year teaching music, fourth year with QPS, and first year at QJHS. Before coming to QJHS, she was the K-5 General Music teacher at Denman Elementary. She lives in Quincy with her husband, J.D., and their two cats. She enjoys spending time with family and friends, cooking and baking, and of course, making music. Mrs. Stonecypher will be teaching 6th, 7th, and 8th grade Choir as well as 6th Grade General Music. She is thrilled to be starting a new adventure sharing the joy of music with the students of QJHS!