Music Administration Office

Mrs. Debbie Johnson – Director of Music Education
Debbie Johnson is a native of Liberty, Illinois. She attended Quincy University as a Music Education major and graduated with Honors in 1995. She completed her Master's Degree in Education Administration in 2006 also from Quincy University. She is currently in her 29th year in education.
Following undergraduate school, she began her teaching career as the Director of Bands at Hamilton High School from 1995-1997. In 1997 she began teaching in the Quincy Public Schools where she has taught band, chorus and general music. She also was a band director at Quincy Junior High School and Quincy Senior High School. In addition, she directed one of the high school jazz bands, assisted with marching and pep bands, and was the sponsor of the QHS Colorguard. Debbie is the coordinator for the Joe Bonansinga Summer Music Institute in Quincy. Currently she is serving as the Director of K-12 Music and Fine Arts for the Quincy Publics Schools
Debbie has served as the District One Chairperson for the Illinois Grade School Music Association and hosted many IGSMA organization and solo-ensemble contests. She also served as the Illinois Music Education Association District 4 Professional Development Representative for 14 years. Debbie is currently serving as the District IV president elect for the Illinois Music Education Association for the State Board.
She resides in Quincy with her husband, Doug and is the proud mom of two kids. Jordan is a student at the University of Iowa, and Courtney is a student at Drake University
Sarah Grawe – QPS Music Department Secretary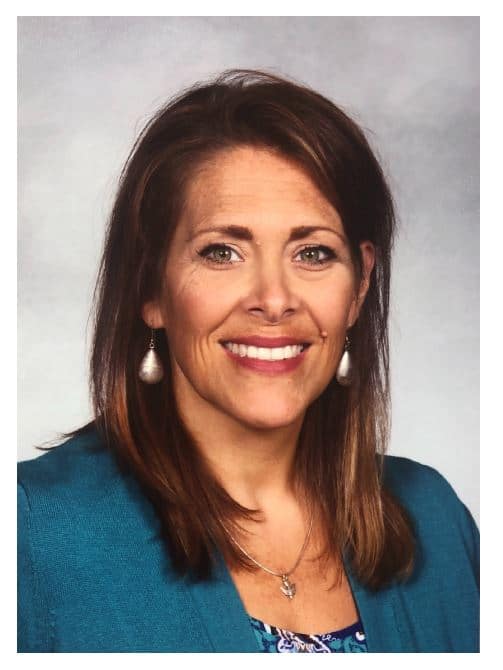 Sarah Grawe is a 1993 Graduate of QHS. She has been with the QPS Music Office since 2015. Prior to coming to the Music Office, she was the Athletic Secretary at Quincy Junior High School from 2004-2012.
Sarah and her husband Tony, live in Quincy. They have 2 children, Jake (25), who lives in Hilton Head, South Carolina and Lucy (13) who is at home.  Also 2 adorable fur children, Maggie & Gus. She enjoys weekends with her family, spending time outdoors, cooking, thrifting and traveling.