Q. What is the West Central Region?
A. The West Central Region Education for Employment System (WCR) is a regional cooperative of ten school districts in Adams and Pike Counties and one of 57 EFE Systems in the State of Illinois that function to coordinate Career and Technical Education programs and services for students enrolled in participating schools. WCR prepares students for entry-level employment or further post-secondary education through Career and Technical Education programs delivered at area high schools and the Quincy Area Vocational Technical Center.
Q.What is the Quincy Area Vocational Technical Center?
A. The Quincy Area Vocational Technical Center is an area Career & Technical school offering courses to the following member school districts: Central, Griggsville-Perry, Liberty, Payson, Pittsfield, Pleasant Hill, Quincy High School, Quincy Notre Dame, Southeastern, Unity, Western, and Brown County.
Q.What is the mission of QAVTC/WCR?
A. The WCR/QAVTC mission is to provide career and technical education programs students can continue to build on to establish future career goals. Our goal is to meet the career and technology needs of all learners – high school and adults.
Q. Where are you located?
A. The QAVTC/WCR office is located at 219 Baldwin Drive, in Quincy, Illinois.
Directions: From I-172/110 take the Broadway exit and proceed west into town until you reach 36th Street.  Turn left (South) onto 36th St. and proceed to the second light at State Street. Turn right or west onto State Street, and proceed about 1 short block to Glendale Dr.  Turn right (north) onto Glendale and go one block, then turn left (west) onto Baldwin Drive.  Follow Baldwin Drive around until you see the parking spaces along the left side of the drive.  Park in any of the spaces with the green painted curb.  If all green spaces are filled, there are two white visitor spaces further up that can be used. After parking, walk up to the third building (F Building), enter through the doors under the white portico with the QAVTC sign above it. You will go through a security checkpoint with a metal detector.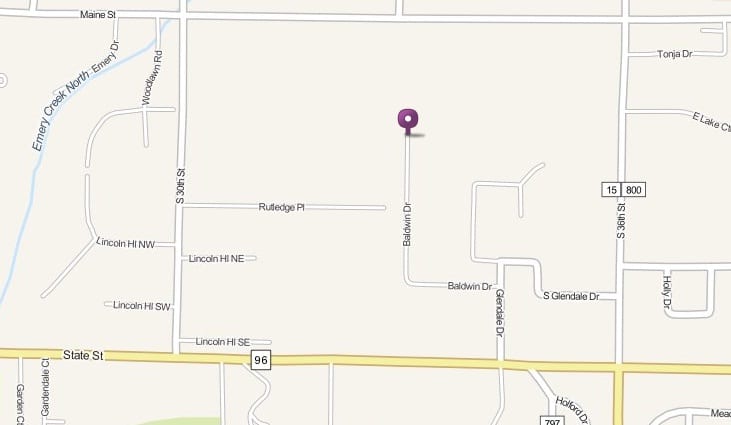 Q. When are classes offered?
A. Day classes are offered at various times for high school students only. Students should check with their high school guidance counselor for specifics on when classes are offered.
Another option for high school students and adults is the Shared Training Program (STP). STP classes meet once a week during the school year on Wednesdays from 2:30pm-6:30pm. Not all QAVTC classes are offered during STP. To find out which classes are offered, check with the QAVTC office. We also work with individual schools in a Blended Learning model. In this model, students are at their home school and interact with instructors via a computer daily from 2:30 to 3:15 pm. Those students then attend a lab day once a month on the QAVTC campus.
Q. Who can take classes at QAVTC?
A. Most of the students who enroll in classes are juniors or seniors in high school. However, with permission from the QAVTC Director, sophomores may take classes as well.
Adults are also welcome to take classes at QAVTC during the Wednesday night STP program.
Q. Will you develop specialized training classes for my employees?
 A. We are always open to starting a discussion on how we can educate and serve businesses in our community. If you're interested in learning more, contact our Director at 217-224-3775.
Q. May I visit Quincy Area Vocational Technical Center?
A. We encourage anyone interested in attending or learning more about our school to set up a tour time. We are happy to arrange a tour time for high school students or adults. For more information, contact our Program Coordinator at 217-224-3775.
Q. What classes do you offer?

Agriculture – Students will learn basic scientific principles and concepts with relevant applications in agriculture.
Automotive Technology- Learn how to keep the vehicle repaired & running well.  Learn the automobile, from the basic through the features of late models, including electronic ignitions and computerized engines.
Business Management-Students will learn the fundamentals of business management and marketing, including billing, accounts, marketing strategies and day-to-day operations.
Child Care-Learn how to teach and care for the younger child. Students can earn an ECE Level I credential.
Commercial Foods-Learn how to plan, prepare and serve meals to larger groups.  Catering and the restaurant industry will be taught.
Computer Aided Drafting & Design- Drafting, CAD and CAM drafting skills for the world of manufacturing is one semester. Design will also be taught. Second semester, students learn residential design and skills to develop a set of house plans.
Computer Integrated Manufacturing (CIM)-Students apply principals of robotics and automation in manufacturing applications.  Students will engineer and build automated production systems.
Construction Technology-All areas of construction will be practiced in the classroom & at off-site locations
Diesel Equipment Technology– Instruction in diesel powered transportation and heavy equipment, such as used in the agriculture and construction industries.
Digital Electronics (DE)-Students study, design and build electronic circuits that are used to process and con troll digital signals in a variety of applications.
Electronics-Learn the theory and application of electronics.  Students begin with AC and DC fundamentals and progress through digital and computer electronics.
Graphic Communications-Learn the printing and graphic design industry.  Students use Macintosh computers in graphic design and layout with QuarkXPress, Adobe Photoshop, Adobe Illustrator and other industry-standard software.  Screen printing procedures are studied.
Health Occupations-Prepare for nurse-assisting.  Satisfactory completion of both classroom and clinical results in eligibility for Illinois Department of Public Health Certification testing.  *Certified Nurse Assistant.  Requires clinical & $60 returnable book fee required.
Introduction to Engineering Design (IED)-students will use 3D computer modeling software. Students will learn the engineering design process and solve design problems for which they develop, analyze, and create product models.
Principles of Engineering-  This is a survey course of engineering which exposes students to the major concepts encountered in post-secondary engineering programs of study.
Metalworking and Welding Fabrication -Students will learn how to cut, machine, bend, weld, braze and shape different metals.  Various welding techniques and equipment are used, including MIG, TIG, plasma and gas.  Students may work toward certification.
Q. How do I sign up for classes?
A. High school students can sign up through their high school guidance counselor.
Adults can get signed up by first finding out which classes are available for STP. A form will need to be filled out for enrollment in the program and then sent to QAVTC.
Q. How much do classes at QAVTC cost?
A. QAVTC charges $455 per credit hour for students. Adult students are charged $300 a semester. Many of the programs also have small lab fees ($15 to $25) to cover the cost of materials.
Q. Do you provide certification for your classes?
A. The Quincy Area Vocational Technical Center is not certified to be a job-placement center.  Except for the Health Occupations C.N.A. program, you will not receive a state or national certificate acknowledging your ability to pursue a particular job requiring certification. Welding will be taught to the American Welding Society SENSE Level I Entry Level Welder Standards. Upon completion, students will be prepared to take the A.W.S. Level I Welder Certification exam and potentially earn the nationally recognized industry certification. In some classes you will be prepared with instruction that is aligned to an industry credential or certification. It would be up to the individual student to pursue contact with a school or agency that provides certification examinations/skill test and pay applicable fee to test for the related industry credential. Your instructor will advise if such opportunities are in place for the class in which you are enrolled. Also, we can award you with a certificate based on the skills you accomplished during your stay with us.  If, at the end of the year, you wish to have a "Certificate of Skills" that would help you in your pursuit of a career, please bring this to the attention of your instructor.  The instructor will have one prepared listing the skills and the number of hours of instruction you received, which will be signed by the instructor and the QAVTC Director.

Q. How can I contact QAVTC?

A. By phone: 217-224-3775
By mail: 219 Baldwin Drive, Quincy, IL
By fax: 217-221-4800
In person: office hours are 7:00am-3:30pm