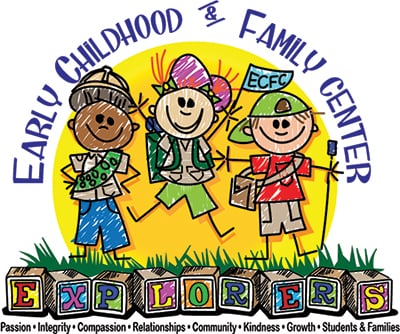 Buster the Bus visits us each year! Buster teaches children how to be safe bus sitters, riders, and listeners. He also talks about pedestrian safety. Buster teaches us how to wear our book bags and how to put on our seat belts!
We love Buster!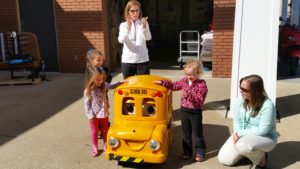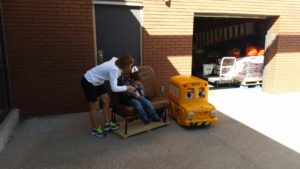 TRANSPORTATION PROCEDURES
Our ECFC buses will transport all children who live in the Quincy School District.  Due to the amount of children we must transport, it is extremely important that children are ready when the bus arrives.  It is the parent's responsibility to see the child to and from the bus.  The driver or bus rider cannot go to the door.  Riding the school bus is a privilege.
BUS RULES
All students should be ready and waiting for the bus to arrive.
Due to illness, weather, and traffic the bus may arrive 5 minutes before or after the designated pick-up time.
Parents are welcome to ride the bus with their child to participate in school activities.
To make a permanent bus change, call transportation at 217-224-5910.

No temporary bus changes.
It takes one busing day to make a permanent bus change.

If your child is absent, call the bus barn at 217-224-5910 and school at 217-228-7121.
If the bus attempts to pick-up a child and is unsuccessful it will be the parent/guardian's responsibility to transport that child to school.
After three unsuccessful attempts to pick-up a child, the child is ineligible to ride the bus until the parent/guardian has contacted school administration.
If a parent/guardian/designated adult is not at the designated drop-off, the student will be returned to school.  It is the parent/guardian's responsibility to pick up the child.
All children must be "SAFE SITTERS."  All children must wear seat belts.
All children are to be "GOOD SEAT BUDDIES."
No food or drink is allowed on the bus.
DURING INCLEMENT WEATHER, LISTEN TO THE LOCAL RADIO STATIONS FOR SCHOOL CLOSINGS.  IF SCHOOL IS DISMISSED EARLY, THERE WILL BE NO AFTERNOON SESSION.
Please feel free to contact Scott Moore, ECFC Building Assistant, at 217-228-7121 or email at moorsc@qps.org,with any transportation concerns concerning your child.